Secure Your Home & Loved Ones with Today's Smart Alarm System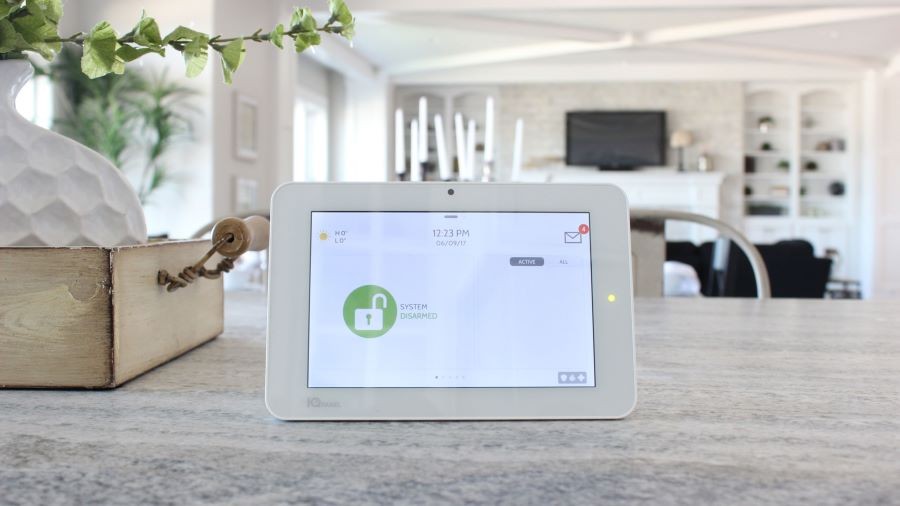 The Latest Features in Home Alarm Systems
Due to advanced technology and the Internet of Things, alarm systems have changed dramatically in the last decade. Today, these systems are AI-smart and can send alerts directly to your phone if something unusual occurs or the security cameras spot a stranger.
According to a survey by Security.org in 2021, 73% of homebuyers are more interested in a home with smart devices, and 90% desire smart devices in the security and safety category. Let's look at the growing demand and why more homeowners turn to intelligent systems for security needs.
SEE ALSO: Learn How the Latest Technology Has Transformed Home Security
Comprehensive Smart Alarm Systems
Today's comprehensive system includes intrusion and motion detection, water and smoke sensors, smart security cameras, and professional alarm monitoring. You can monitor these systems from anywhere and receive security alerts on your smartphone. This functionality also enables you to control them from any location.
Did you leave on an extended weekend getaway and forget to arm the alarm or lock the side door? Your system will send you an alert, and you can manage the smart devices from your smartphone app. Did your smart home detect water in the basement? Tap an icon on your mobile device to engage the smart water shut-off valve, stopping further damage until someone can look at the situation and determine the cause.
Recognizing the Unusual
Imagine a car pulling into your driveway at night and your security system sending you an alert because it doesn't recognize the vehicle. That's a far cry from older security systems that either didn't let you know or sent you a notification for any matter of movement, from your spouse pulling up to the house to a rowdy gang of raccoons having a party in the pond.
Virtual tripwires alert you to someone crossing over into a secure area, whether it's a stranger making their way into your backyard or your toddler heading for a swim in the pool. Specific responses may include turning on preset lights and music, such as blaring loud whistles and flashing lights to let trespassers know they've been spotted.
Many of these cameras are equipped with two-way audio, enabling you to speak to someone that's been spotted or talk to your pet sitter and unlock the door for them when they arrive. In addition to two-way audio, these systems also include night-vision, letting you see who set off a detector no matter the time of day or night.
Central Station Monitoring
A 24/7 monitoring station ensures your home is safeguarded regardless of the time of day or your location. Should a security breach occur when you're hiking in the Ozarks or entrenched in a meeting, the alert is sent to the station, where professionals can determine if the situation requires first responders. As they are directly connected to emergency personnel and law enforcement, you can count on them receiving an immediate notification.
Protecting loved ones, homes, and valuables is always a top priority. At Atronic, we've been providing Springfield, MO, homes and businesses with custom security and home automation solutions for over 40 years. To learn about smart alarm systems or to schedule a complimentary consultation, contact Atronic today.